Budget Gaming PC Build Under Rs. 30000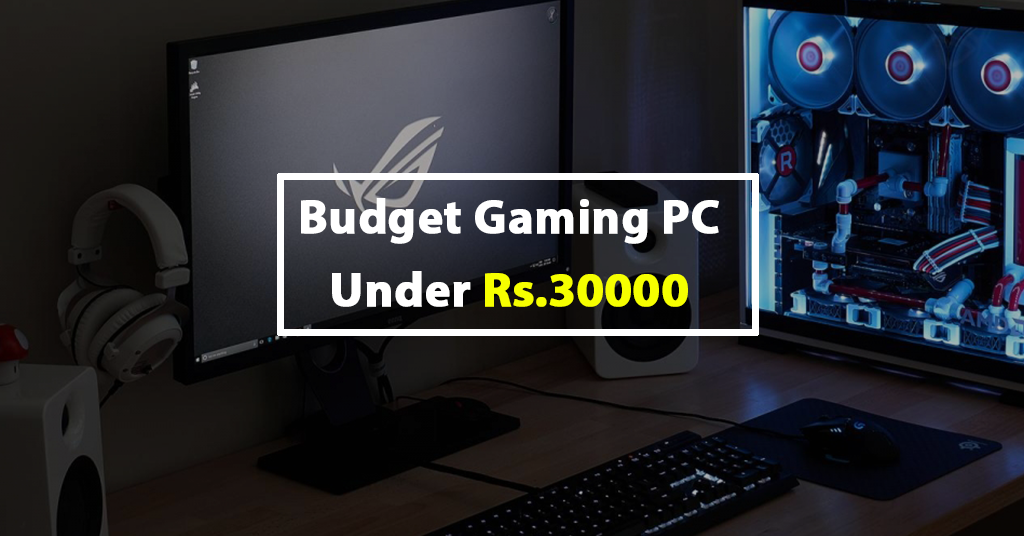 Building a new gaming PC has always been confusing and a thought provoking process for every gamers. But before building a PC its very necessary to decide your budget.Many of them have a very tight budget while many want high end gaming pc for themselves. This article is for those who want a budget gaming PC under Rs.30000
This Gaming PC is built under Rs.30000. So if you want a gaming PC under Rs. 30000 then this PC build give you a better idea before you make your own.
This machine will easily handle games like Fortnite, Counter Strike - Global Offensive, DOTA 2 in 1080p. AAA title games like GTA V, PUBG, Far Cry 5 can be played at medium settings giving you decent playable FPS.
Components you need to build are :
1. CPU - AMD Ryzen 2400G
Ryzen 5 2400G is a true quad-core CPU with a base clock of 3.6 GHz and a boost clock of 3.9 GHz. Technically it's an APU(Accelerated Processing Unit), it combines the CPU and GPU onto a single chip. So you won't necessarily need to purchase a GPU. It has got 11 Radeon Vega Cores (704 ALUs). And if you find that you'd like to upgrade to a faster standalone GPU some time later, you can do that! 
2. Motherboard- MSI A320M PRO
You can go for a motherboard having A320  chipset.You can buy any A320 motherboard from any reputable brands like Asus, Gigabyte, MSI or Asrock depending on pricing and availability. All these motherboards have an almost similar specification. All of them have 2 RAM slots. Which can support up to 32GB RAM, clocked up to 3200MHz. 4 SATA ports for your hard disk drives and DVD drives(if you still want to use these).
3. RAM- Crucial 8GB DDR4 2400MHz
We have seen a decent reduction in RAM prices over a couple of years. Compromosing on price while purchasing a RAM is not a good idea. Using a RAM less than 8 GB is not at all a good decision if you want to do gaming. You will face micro-sluttering and low FPS while playing AAA title games. Crucial 4GB DDR4 memory stick (x2) is a great value for money option. Clocked at 2400Mhz, it is sufficient for handling even AAA titles out there.
4. HDD- SEAGATE BARRACUDA 1TB
1 TB is more than enough to store all your game datas. You can easily find these on any reputable e-commerce sites.  Seagate and WD are the best among all. Its always to buy HDD from any one of them for a much faster performance.
5. OPTIONAL- WD GREEN 120GB SSD
SDD can totally change your PC experience with faster boot time and faster game load time. But they are really expensive compared to a hard disk drive. So using both an SSD and a hard disk drive will give you best of both worlds. I highly recommend you get a solid-state drive. Install your OS, frequently used games and software on SSD and rest everything on HDD. 
6. PSU- CORSAIR VS450
A Power supply unit powers up all the components in your gaming rig. Therefore, its vert important to choose a good and better performing PSU unit because if any problem occurs in your PSU then it will definitely mess up your entire rig. So cheaping out on the power supply is really a bad idea.  A 450W power supply is more than sufficient to power all the components in this rig. Corsair VS450 is the best budget choice you can go for.
7. CABINET- COOLER MASTER CMP 351
You can choose any decent cabinet for yourself. Cabinet does not assist in making your gaming performance any much better. So its best to prefer any  decent cabinet of your own.
Here is the list of prices for all the components discussed above :
CPU - AMD Ryzen 2400G - Rs. 13,040
Motherboard - MSI A320 Pro - Rs. 3988
RAM - Crucial 8GB DDR4 - Rs. 4380
HDD - Seagate 1 TB - Rs. 3360
PSU - Corsair VS450 - Rs. 2700
Cabinet - Cooler Master CMP 351 - Rs. 2258
Total - Rs. 29, 776.
Note : If you reside in Delhi then you can visit Nehru Place and get this build at a little lesser price than the price mentioned above. Most probably you might have to pay rs.1000 - Rs.1500 less than whats mentioned above.
All the prices of the components may vary from time to time.
You can also have a look at our gaming inspired goodies at Be Awara :
https://www.beawara.com/collections/gaming