Top 10 Trending T Shirts at Be Awara Store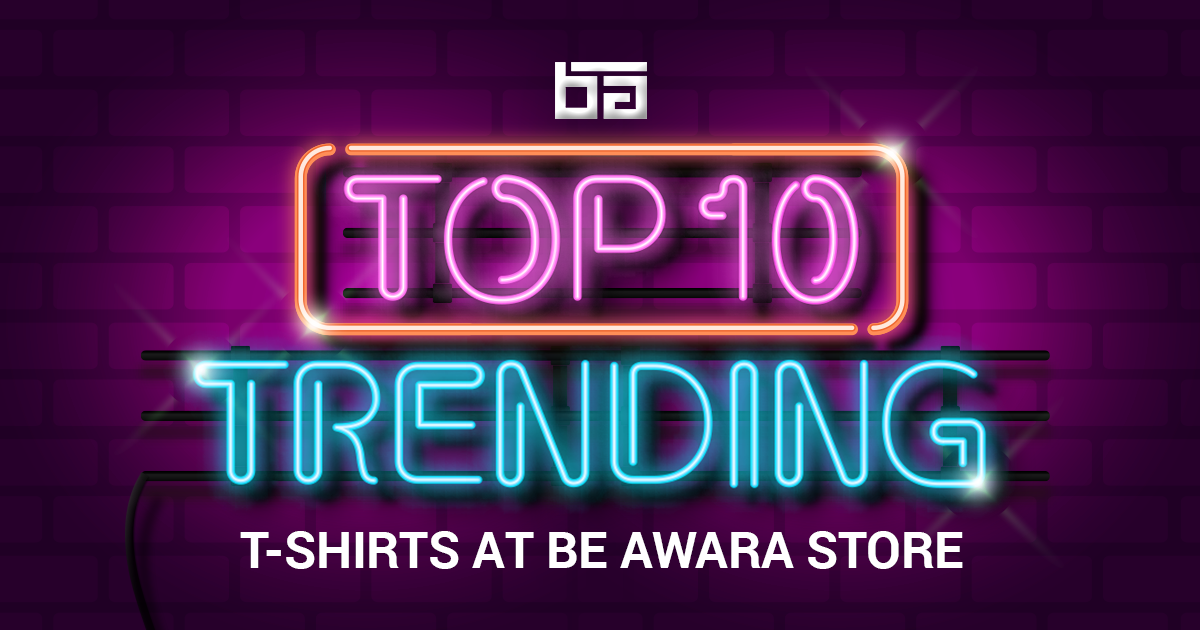 10. Saturday Night Hum Peeke Tight T Shirt
This tee is for all the party lovers out there. Turn on the party mode and and hold your horses to start the party with our Saturday Night T Shirt. With this tee broadcast your night of fun. Buy this tee now at Be Awara Store.
9. Kand Mizapur Waale T Shirt
Mirzapur is one web series that has taken audience in surprise right from start to end.  This T-Shirt design goes for all Mirzapur fans. Show the gritty gangster side of yours by wearing this tee and be the guddu bhaiya of your loved ones !!
8. Iron Core T Shirt
To All the Marvel Fans Out there !! Mr Stark got no chills when it comes to saving the world. This Tee is made by humans worn by superheroes and desired by aliens. You must give it a shot and be someone's superhero !!
7. Aao Kabhi Pochinki Pe T Shirt
Moment we hear the word 'Pochinki' only one thing strikes our brains and that's.... Of course it's PUBG. Being the most trending online game in the world it has becomes everyone's favourite. This T-Shirt is a must buy for all the PUBG lovers out there. Get Shopping Now at Be Awara Store.
6. Aadhar Linked Hai T Shirt
One of the top design under our best-sellers list . Aadhar Linking  has been a very hot topic in India.  So we decided to  add little fun on it. Now when someone asks about your aadhar status show them this tee.  Buy Aadhar Linked Hai T Shirt at Be Awara Store now.
5. Winter is Coming T Shirt
Well Probably the most watched show in the world. Yes, we are talking about Game of Thrones ! One of the best way to show your true fandom for GOT is to purchase a GOT inspired tee. Our Winter is Coming T Shirt is just perfect and is a must buy for all the GOT Fans.
4. How's The Josh T Shirt
Feel the War Cry of Indian Army and say it loud – HOW'S THE JOSH? HIGH SIR! Being a true Indian is all about boosting up our soldiers moral by wearing this t-shirt. Let's make a trend to stand united for the nation.
3. Apun Hi Bhagwan Hai T Shirt
Inspired by one of our favourite tv shows Sacred games this tee is all time favourite for all Nawazuddin's fans. This famous dialogue has been very trendy among people. Try this tee and Slay it Nawaz Style !!
 2. Pug Pocket T Shirt
Don't Miss Out This Pocket Tee exclusively at Be Awara  Store. One of the Top Selling design, share the cuteness of our Peeping Pug Pocket T Shirt with others. Grab Yours Now at Be Awara Store.
1. Tera Bhai Sambhal Lega T Shirt
This dialogue is always heard by our friends and brothers when we fall into any trouble. Our loved ones are always ready to protect us from bad situations. This T Shirt tops our best seller list and is a much recommended one for you guys. Grab Yours Now!