5 Types of Popular Mens Graphic T Shirts You Should Own
Posted by Aayush Kejriwal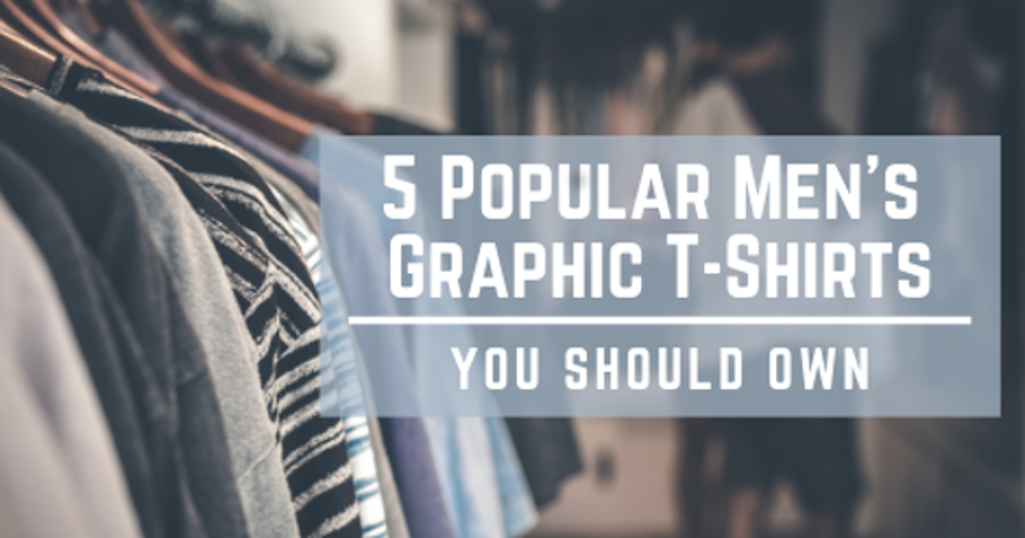 A few generations ago, men (specifically guys who're now above 40) were never very attentive about their wardrobe. Mothers, wives, girlfriends, or even sisters usually made sure that you had something good to wear. However, times have changed. Since we can easily buy men's cool T shirts online these days, "shopping" is not the challenge it used to be.
Most of us buy men's T shirts online because online stores simplify the whole effort. The online browsing allows you to check out all the available colors, prints, and designs without having to physically go through a pile of clothes. Also, it's typically cheaper to buy men's graphic T shirts online than from a showroom at the mall. Ergo, men can do their own shopping hassle free.
Here are 5 of the most popular tee shirt designs every man should have in his wardrobe – 
#1 – The Classic Crew Neck   
Most of the men's cool T shirts are round necked. The classic crew neck goes perfectly with most attires and represents the most comfortable men's style. Luckily, there is never a shortage of different styles and designs you can choose from. Crew necks look great with full prints, slogans and graphics, or various gradient shades. They go well with jeans, trousers, chinos, or cargos. The classic crew neck is like water – suits every vessel. For people who
buy men's T shirts online
, the endless variety of crew neck options is often the biggest challenge!
#2 – V Necks for the Man          
Typically, I'd ask you to avoid V necks if you're on the heavier side. The V neck suits slim frames best. However, it's a personal choice, and you're the one who must carry it! V neck tee shirts go better with jackets or two-piece suits than round necks. However, manufacturers usually make V necks in more limited quantities compared to the crew neck kind. If you regularly buy men's T shirts online however, you'll find that bigger stores can offer you several prints and colors.
#3 – Long Sleeves with Style
The long sleeve style is usually the one which suits heavy set men best compared to half-sleeves. The long-sleeve cut and shape are meant to cover a wider body shape. Unfortunately, long sleeves don't always wear will with jackets since they usually have a longer hemline than most jackets. websites selling men's graphic T shirts online often offer their most popular prints on both long sleeve and short sleeve options. This allows you to carry your favorite slogan or graphic print on multiple styles for different situations. When buying men's cool T shirts online, look for a brand that has both crew-neck and V-neck long sleeves.
#4 – Polo Tees are Essential
So far, we've discussed the three most casual styles; and I'm sure most men would have ample V necks and crew necks in their wardrobe. If you buy men's T shirts online, the polo style may not seem as obviously popular as other designs. Polo tee shirts, however, fall into the essential category – like formal wear or traditional wear. Polo necks are semi-formal, and they usually have simple prints like stripes, gradient shades, and such. But you can buy them from the same places selling men's cool T shirts online. You'll need your polos for semi-formal occasions like your boss's birthday or that poolside dinner after a business conference.
#5 – The Power of Single Shades
As I mentioned, when we buy men's T shirts online, we see a confusingly wide range of color options to select from. Picking the right shades for your wardrobe is just as important as choosing the style of the tee shirt. Slogans and images on T shirts are all about personality, but the sheer variety of single shades makes selection confusing. Top Indian brands are selling men's graphic T shirts online can offer single-shade V neck, Polo, or Crew Neck designs; but choosing the right shade is still a personal task which many men are wary of.