Top 5 International Dishes to Try in India
Posted by Sourodeep Sinha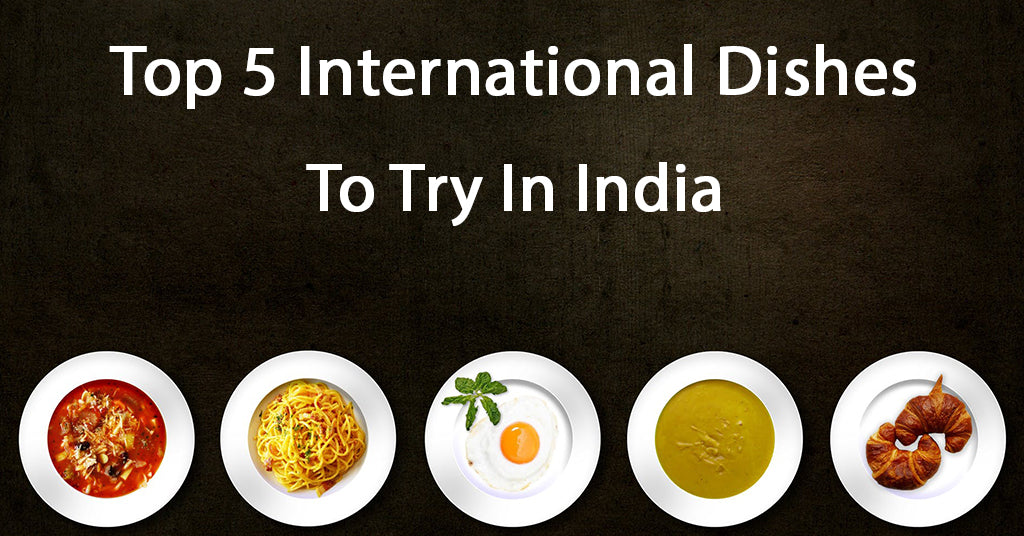 Crave for food is imminent and will surpass all the other fascinations be it technology, apparels or gaming. Whether you visit a restaurant with your partner in crime, or you order online from zomato/swiggy, we are going to help you try some of the top mouth watering dishes that are quite famous across the world and yes, all thanks to the chain of restaurants spreading not just onto metropolitan cities, but also towards towns and districts ;) So, let's not beat the bush and start off with some favorite dishes that are a must try, doesn't matter whether you are a big time foodie, or a diet sensitive type.
1) Shawarma Wrap/Roll – An indigenous mouth watering Lebanese Dish
You might have heard of several Shawarma joints rolling across some of the major cities of India. So let's start with what it is. A Shawarma is a pure Lebanese dish, formed from Pitah bread, (Pitah is just a term used to describe the outer chapatti of the roll structure). Some people, also use Rumali Roti, instead of Pitah, and yes that tastes great too.
Shawarma can be made from just about any kind of meat you can imagine, but chicken and lamb are particularly popular. Additionally, it is served with a boiled green chilli ( dipped in vinegar) and obviously a huge quantity of mayonnaise for that added extra amount of fat :P . Please note that this not an egg roll or wrap, so this chapatti type bread is made of wheat, and has a unique taste when consumed.
A regular shawarma is usually priced for Rs 60 to 70, and if you wanna make it a jumbo, simply seek for an option in certain restaurants adding a few extra notes from your pocket.
Well,that was all about Shawarma for the day, now you know the thing, just hop in to your nearest shawarma centre, and ohh, don't forget to checkout the reviews and discounts online ;) (if only applicable :D)
2) Chicken Lasagna – Another popular continental dish for a quick heavy and yummy appetite
Lasagna originated in Italy during the middle ages. It is a continental dish and is served with garlic bread most of the time. Lasagna is just one of the oldest forms of pasta with chicken, alternated with sauces and topped with huge amount of melted cheese. Unlike our common Indian dishes, like chapatti and that delicious gravy of paneer or chicken that we usually habituated with, this is a perfect dish in case you want things to be filling and fattening ;)
As we are growing cosmopolitan, you know there is not a single dish that is not available in India. Considering this in mind, you can always turn up for an evening dinner party at a cozy continental restaurant, and well, lasagna or any form of item with mayo or cheese tastes best in winters. Average price of this may sound a little pocket pinching, (Rs 250 to 300) at a standard restaurant, might be more, in branded places, but then again considering the amount provided, it can easily fill up a hungry tummy, cause of the extra fattened base. And yes, if you are a new customer, or you have got a new number, you can always, make use of them with those first order discounts from online delivery apps( you already know about it). So Bon Apetit ;)!
3) Chicken Kabiraji – An Authentic Indian Delicacy available Pan - worldwide
As per conventional data, India's most varied street food is at the city of joy i.e Kolkata. Yes, you heard it right, West Bengal, the culture, the food varieties, is not just unique, but has been evolving since decades. Bengali Cuisines are now a part of international food joints . You will find plenty of joints in America, China, Australia, and people have started loving it.
Agreeing to the varieties, one such epic food item, which needs to be tasted by everyone, once in lifetime, is Bengal Special Chicken Kabiraji cutlet. Chicken Kabiraji is another form of cutlets that is made of minced chicken mixed together with some spices and herbs. The dough is thinly spread out, dipped in egg and coated with breadcrumbs. Then it is fried with an abundance of eggs. To make an egg nest, a pinch of salt and an egg mixed with a teaspoon of water is dropped on top of the frying cutlet It is considered as one of the top rated, yummy non veg starter, served with salad and sauce. The word Kabiraji Cutlet has come from the Bengali pronunciation of a "Coverage or Cover with egg" Cutlet. Like other chop cutlets, this recipe too is the result of British influence on the Bengali cuisine.
4) Sushi – A Popular Japanese Appetizer and tryout is a must

Sushi is the most famous Japanese dish outside of Japan and one of the most popular among Japanese, who enjoy sushi on special occasions. And as such, it was evolved outside that country, influenced by different Western cultures, especially in USA. The name of sushi is a generic name of different types, combinations of ingredients and forms of a typical Japanese food, and basically is made from Japanese type rice and different seafood (fresh fish, prawns, seaweed etc) and vegetables.
If you are diet conscious, and always prefer to have non-veg boiled, then this one is for you. Keeping all the numbers separated, you gotta give preference to this outright. There has been plenty of developments in almost all the metropolitans, making it available in authentic Japanese cuisines. Coming to the prices, its not pocket friendly and you cannot consume it on a daily basis, but for a one time try, its absolutely worth it. Usually prices are somewhere around 300-400 INR serving one person whole heartedly. The sides are not much, you only get to have special rice and boiled veggies with adequate vinegar added.
5) Tacos – Last but not the least, a traditional Mexican fast Food 
A taco is traditional Mexican Dish consisting of a corn or wheat tortilla ( in simpler words, like wheat chapatti ) folded or rolled with vegetarian stuffs like coleslaw, mayo, tomatoes or chicken, fish ,pork (in case you are a Non Veg). We, Indians at times may feel like things are stuffed in a thin papad like stuff :P. No that's not true, well. Some tacos are made from hard shell, that make look like a tortilla, but the taste is quite different and unique. Although, we agree, it's not that stomach filling like the rest described here, it has got a separate taste, that will be likeable by many. 
Tacos are usually garnished with salsa, chilly pepper, avocado, tomatoes, onions and lettuce. One of the most popular instant taco centre is Taco Bell, which is located in almost all the suburban cities across the world. Authenticity can be checked not just in a branded outlet, but also having from places which are prepared by typical Mexicans or those who have learnt it ;) . One of the major side dish you want to have along with tacos, is a glass of coke and nachos with cheese dip.
Do give a try, having all these at least once in lifetime, and the taste shall remain in your taste buds, because of their uniqueness.
Considering the hunger combined with the lunch or dinner plans for the day, you might want to have a look on some of our exclusive food and hunger related accessories and apparels. Do visit our website to find some of our best designer and customizable products to that ravenous mood.

https://www.beawara.com/collections/food