Top 5 Places To Visit This Summer In India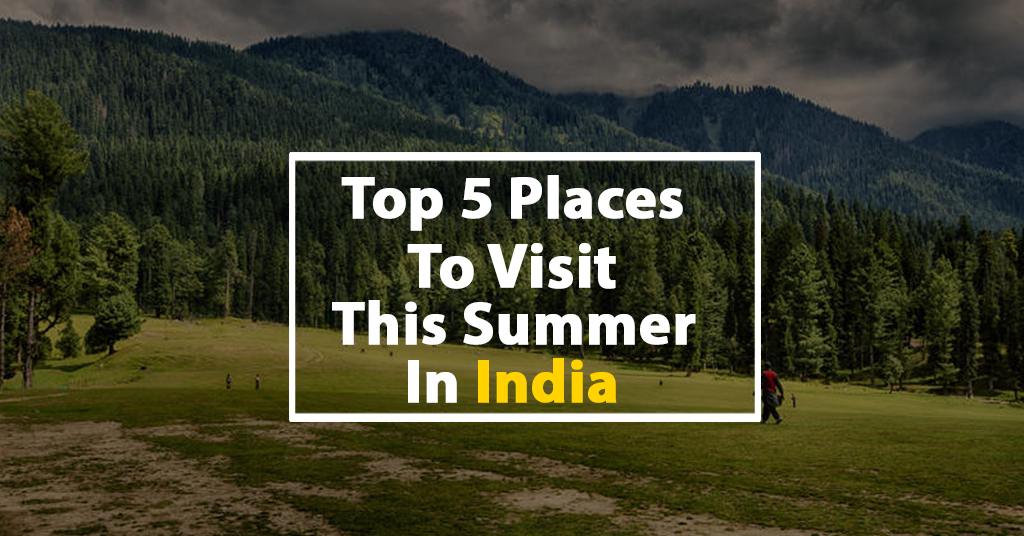 1. MANALI
Wandering amidst the beautiful mountains and green lushes is still a dream for many. Manali is among the beautiful places in India to spend your summer vacation with your loved ones. It has a reputation as a backpacking center and honeymoon destination. Set on the Beas River, it's a gateway for skiing in the Solang Valley and trekking in Parvati Valley.
How To Reach:
Nearest Airport is Bhuntar, 50 Kms away from Manali
Nearest railway startion is in Chandigarh, 291 Kms away from Manali – ( Can make a Road trip after deboarding the train in chandigarh.)
Road trip: Manali is 546 Kms away from Delhi
Things To Do :
Adventure sports at Solang Valley is something you are not supposed to miss.
Try paragliding, zorbing, quad biking and many others there
Head to Rohtang Pass to play in the snow
River Rafting is a great adventure and ride that will get the best of those who want to experience it.
Explore Kullu if you have more time in hand.
2. SHIMLA
Shimla is a very famous hill station in Northern India and is one of the most famous vacation places in summer that perfectly captures Indian magnificence . It is imparted with a very rich history along with its natural beauty. Those who are willing to spend a relaxed holiday vacation also packed with a fun retreat, this is the place for you. Best time to visit is in May and June.
How To Reach :
Nearest Airport is Chandigarh, 115 Kms away
Nearest railhead is Kalka
Road Trip: Shimla is 360 Kms away from Delhi
Things To Do :
Mall road – Favourite Place for the tourist visiting Shimla.
Visit Lord Hanuman's Temple there at Jakhu Hill- A short and beautiful drive from Shimla.
Another ancient landmark is the Viceregal Lodge which was built during the British reign.
Shimla serves an excellent base for trekking expeditions, therefore camping is one of the things to do in Shimla.
3. LADAKH
A Road trip on bike with group of friends has been a dream of every biker. The dusty roads, open skies and blue lakes are mesmerizing for all those travelling to ladakh. Summer is considered to be the best time for visiting ladakh. Couple of look arounds at famous Buddhist monasteries adds a vibrance to the tour.
How To Reach :
Leh Airport in Ladakh is well connected to cities like Delhi
The closest railway station from ladakh is about 700 km from Leh city known as Jammu Tawi Railway Station
Road Trip : Best place to start a road trip to ladakh is from delhi. Around 1300 kms away from it.
Note : If you are planning a road trip to ladakh then make sure you take enough stoppage enroute to keep yourself accustomed to a new climate or new conditions
Things To Do :
Grab a Bullet Enfield and explore the rocky roads of ladakh
Experience the absolute serenity of nature beside the emerald Pangong Tso Lake.
Take camel rides from the sand dunes of Nubra valley – Amongst the top places to visit in ladakh.
4. NAINITAL
Nainital is one of the top beautiful places in india to visit in especially during summers. Surrounded by lushy hills and mountains covered with the green essence of nature makes it a perfect place to spend a beautiful holiday vacation. Good number of accommodation options and easy access routes makes it a preferred weekend gateaway for people especially residing in delhi and chandigarh.
How To Reach :
Located 60 Kms away from Nanital, we have Pantnagar Airport which is the nearest airport.
Kathgodam railway station is the nearest railway station located 20 kms away from the main town.
Road Trip : Mostly people start their roadtrip to Nainital from Delhi. Distance is around 300 Kms between the two.
Things To Do :
Boating in Naini Lake – One of the best things to do in nainital.
Witness the beautiful sunrise and sunset from Tiffin Top.
Visit the Tibetan Market where you can find arts and crafts handmade by the locals.
Hanuman Temple – Visit this temple and witness the divinity of this place.
5. HARIDWAR AND RISHIKESH
Holy City of Haridwar and Rishikesh are visited every year by many people including Indians and foreigners. Best time to visit this place is in Summer. Apart from the religious monuments, temples and pilgrims worship center, this place is also known as the adventure capital of India.
How To Reach :
Nearest Airport is in Dehradun, 41 Kms away from Haridwar
Nearest railway is Haridwar Junction
Road Trip: Best place to start a road trip to haridwar is from Delhi located 233 kms away from it.
Things To Do :
Pilgrims starts their journey by taking the first holy dip in Triveni Ghat before visitng the temples.
Musical Aarti taking place in evening near the Ghats of Ganga will grab your attention to the holiness of this place.
Lakshmana Jhula and the Rama Jhula, a suspension bridge built over the River Ganga is a must visit.
If you want to add a little adventure in your trip, Head straight to Rishikesh.
While you're planning for a trip, you can also have a look at our travel inspired goodies like T-Shirts, Passport Covers and many more. Do visit our website to find some of the best designer travel based products at Beawara.com.
https://www.beawara.com/collections/travel