Top 5 Places to Explore in Bangkok
Posted by Sourodeep Sinha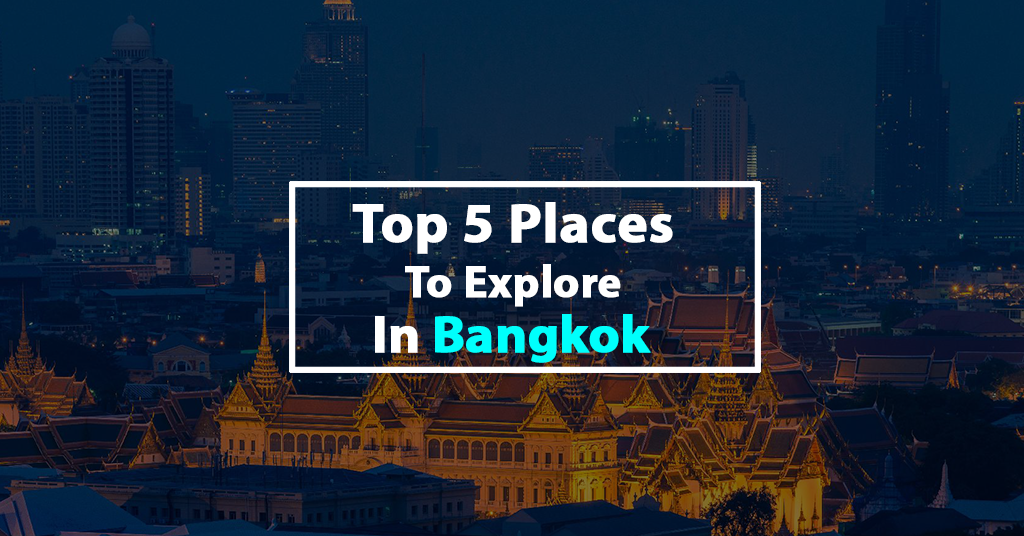 Bangkok… with its reputation for being one of the cheapest international getaway in Thailand can be expected to be a happening, noisy and frolic filled city let's just say, similar to any other capital city in the world. This blog is going to give you a lot of positive points that you will forget what the first line of the blog said.
Let's Begin with some of the major places that you cannot miss after reaching Bangkok.
1) The Grand Palace and Wat Pho
One of the city's major crowd pullers, the Grand Palace is a famous place to visit. This palace exists within a walled complex, entering inside is not allowed. However, you can feel free to take a walk around the palace that displays elegant decor with spiked styled roofs. As a matter of fact, you can plan a half day tour in this historically rich tourist attraction where a melange of attractions like Buddhist temples and museums are placed. Make sure to visit early morning, dressed decently in order to get entry conveniently.
After spending the first half of your day here, you can visit Wat Pho, which is located at a walkable distance. This attraction is famed for the statue of Buddha.
2) Bangkok's blend of architectural wonders and the largest street markets 
The architectural marvels of Bangkok provide a contrast of old and new, you will feel mesmerized to see modern structure and old marvels standing next to each other. The city is such a vibrant destination and you have to experience a city walk tour while here and it is perhaps one of the best things to do in Bangkok. Make sure to stand and observe the bustling city below from the pedestrian skywalk. You could as well visit Chatuchak Market located adjacent to the Kamphaeng Perth Station that is tagged to be the largest weekend market in the world. With over 15,000 stalls, expect to find just about everything, from clothing to eateries and even bizarre food.
3) Sea Life Bangkok
One of the largest aquariums in Southeast Asia, SEA LIFE Bangkok (previously known as Ocean World) is a welcome break from the heat and crowds you find in many of Bangkok's outdoor attractions. If you're looking for what to do in Bangkok with kids this should be on your list of places to visit. Admission prices may feel like pocket pinching if you're only planning to be here for an hour, but stay for longer and you're more likely to get your money's worth. This is the closest many of us will ever get to a shark!
Exhibits include an underwater tunnel, and there are countless different species of fish and other marine life here including octopus, seahorses and turtles, and the always entertaining penguins. With everything indoors, and the food court of the Siam Paragon shopping mall right outside the doors, this is a popular thing to do in Bangkok.
4) Jim Thompson Road
The historic home of a "self-made American entrepreneur" who disappeared while traveling in Malaysia now stands as a relic of an older time in Bangkok. Jim Thompson settled in Thailand after spending time there as a serviceman around the end of WWII. He was a prominent figure in the Thai silk industry and was awarded the Order of the White Elephant, a significant honor given to foreigners who have made contributions to Thailand. Thompson's home has been turned into a museum offering insights into his life and business, as well as the history of the city and the Thai silk industry.
5) Bangkok National Museum
 When deciding what to do in Bangkok you'll discover there are countless museums of different sizes and different subjects all across the city but if you want a general overview of Thai art and history, be sure to visit the Bangkok National Museum.
This is the largest museum in Southeast Asia so you should set aside several hours at least for visiting this particular Bangkok attraction. It's recommended for anyone who'd like to learn more about the intricate history of Thailand. Starting in  you'll see some very nice exhibits that begin to summarize the country's history. Parts of the museum have got developed from refurbishment, that can be seen on visiting.
Meanwhile, you can just checkout some of our travel specific tees on the go, that might come handy.