Top 5 Places To Travel Around The World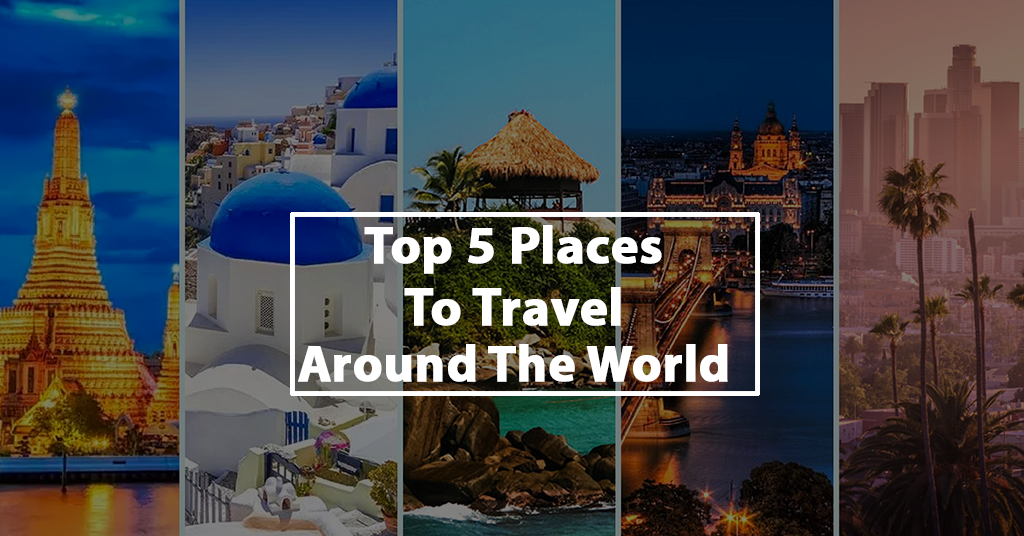 Planning for your next trip this 2019 ? We're here to suggest some of the world's top 5 vacation spots for you.
1. Paris, France
The Cosmopolitan Capital of France, Paris is situated in the North Central Part of Country. Like all great cities, this is a place with a huge amount of City's cultural treasure. Eiffel Tower is the city greatest attraction part. Tens of thousands of people visit this tourist attraction and enjoy the beautiful view of the city. It has museums of its greatest cultural traditions, Art gallery, busiest cafes and also stellar shopping areas for a perfect outdoor fun with your loved ones. 
2. New York, New York
One of the greatest cities in the world, New York has always been favorite for all the travelers. Its a whirlwind of activity, with famous sites at every turn and never enough time to see them all.
Many people come here to enjoy the Broadway shows;  while others come normally to shop and dine. Talking about some famous tourist attractions in New York, the city contributes the Statue of Liberty, Empire State Building, Brooklyn Bridge, Central Park, historic neighborhoods, and numerous world famous museums. Almost every tourist attraction places is within a walking distance or a short ride, making your travel experience amazing and delightful.
3. Rome, Italy
Rome is a large city with plenty of things to do and see — especially if you're a history lover. Fortunately, most of the main sites are fairly close to each other, so you can see a lot in little amount of time.
The Eternal City Rome celebrates its long history with monuments, churches and restored ruins that offer a glimpse into lives of people during the days of the great Roman Empire. Celebrate the city's historic roots and immerse yourself in the culture over a heaping bowl of pasta and a taste of gelato.
4. Miami, Florida
All set to visit the beach and have some world class Cuban foods? Folks ! Miami isn't cheap at all. It is one of the most desirable places for all the tourists. As such, it is in pretty high demand. If you're planning a trip to Miami, you'll have to be prepared for high prices.
Miami is a tourist hotspot with many forms of accommodation than you can imagine! The beach penthouses and opulent lofts, the kind of places you see in magazines and movies, you are going to get it all in miami and thar's what miami is actually famous for. While you can certainly stay in these if you can afford them, there's still a lot more to this city.
5. London, United Kingdom
London is one of the largest and most densely populated city around the world. Its a very common spot for those who are looking for backpacking trips or two week holidays. London is a fashion capital, an amazing people to go out and a perfect place to eat. You can enjoy tea and crumpets and celebrate the city's royal roots before heading out to a slick gastropub for gourmet dinner and drinks.
There are some places where you can afford things at a cheaper rate but you need have some extra cash with you just to make sure you are all good to go in case of emergency. Whenever you visit London, there is always something new to the city. Everything in London is awesome but its a little expensive too. 
https://www.beawara.com/collections/graphic-t-shirts-for-men