Top 5 trendy Diwali outfits 2021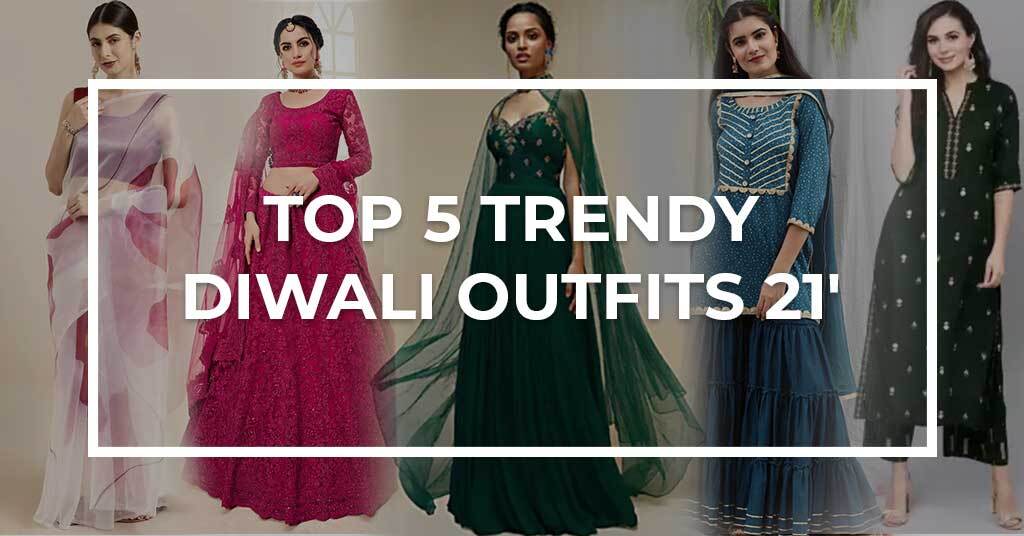 Diwali is round the corner, haven't you picked your outfit yet? We are here to help. This festive season go trendy and bring out the best of you. We offer the exclusive list of latest fashion trends for 2021 so that you can pick the one that suits your taste. Diwali is not only about crackers and sweets but also about beautiful sparkling outfits. Festivals like Diwali make us forget the pandemic and bring back the good old times. We all get ready with sweets and crackers and du-h!! The Outfits. In India, this is undoubtedly one of the major and most exciting festivals. The enthusiasm with which the festival is greeted across the country is unmatched. However, with the festive celebrations and joy also comes a task, which is the selection of the perfect outfit for Diwali. With so many options available online, here we have explained a few of the festive fashion trends for 2021. Try these best trends and make it worth the watch.
Organza saree: 
When the organza saree trend arrived, the pandemic arrived as well; hence the trend did not go a long way. Organza is a soft transparent fabric, it is firm and very durable. It perfectly retains its shape and is wrinkle-free. It defines Luxury and Elegance. It is a type of fabric that is produced from silk. Since silk is considered to be luxurious, it means that you are getting something of high-quality. If  you feel plain is boring but at the same time you do not want to go for something very loud yet look chic and classy then an organza saree is a must buy. Style it with your favorite blouse or a hot bralette top and imagine wearing it in between all the lights and colors! I bet you will love it.
Sharara dress: 
A sharara dress is ideal for women who like flaunting royal-looking ensembles that make them the center of the party. These Diwali outfits for women are one of the more timeless pieces— A sharara suit can be traced back to the Mughal era, mainly to the Awadh region which today is better known as Lucknow. A sharara suit typically contains a short beautiful kurta and a pair of flared pants, giving you a sophisticated and trendy look.
Indo western: 
If you are someone who does not want the hassle of a saree draped around you all day yet want to look traditional, you can go for an Indo-western look. These Diwali outfits for women are extremely versatile, stylish, and so comfortable that you can be in them all day long. This kind of attire has multiple varieties to choose from. Some of them are Zari designed gowns, trousers and crop tops with a coat or a simple flowing skirt and with a crop top. These outfits are the modern woman's first choice in Indian attire.
Lehenga Choli: 
If you are a person who can carry gorgeous outfits and heavy jewelry then a lehenga choli set is your best bet. The lehenga, also known as a ghagra  is a form of ankle-length heavy skirt with different patterns and styles of traditional embroidery. A perfect Indian attire for a festival like Diwali especially if you are a newlywed. Lehenga can be paired with beautiful jewelry of your choice to enhance your look. Nowadays we also get various western style lehenga which are lightweight and would give a perfect Indo-western look.
 Kurti with Palazzo pants: 
When thinking about modest yet elegant ethnic wear for Diwali where you do not have to compromise on comfort, kurtis are your hands down the best option. Basic kurtis with vibrant colors and embroidered palazzos is the new favorite in traditional dressing. These Diwali outfits for women are simple yet alluring. The most important thing to keep in mind while flaunting your outfit is to maintain the correct balance. Make sure the kurti you choose is neither too fidgety nor too dull. We also recommend that you go for a subtle piece and add some bling with adding statement necklaces or earrings. 
Last but not the least if you are a person who is looking for a change this year, we got your back. Be Awara brings you our exclusive Diwali merchandise with statement t-shirts. The 100% cotton fabric takes care of your comfort and the HD prints make sure that you shine brighter than the fairy lights. Order for yourself and your loved ones and match your outfits this Diwali. Check out our website for discounts and giveaways!