5 Unique Ways to Dress Up in Women's Printed T Shirts with Style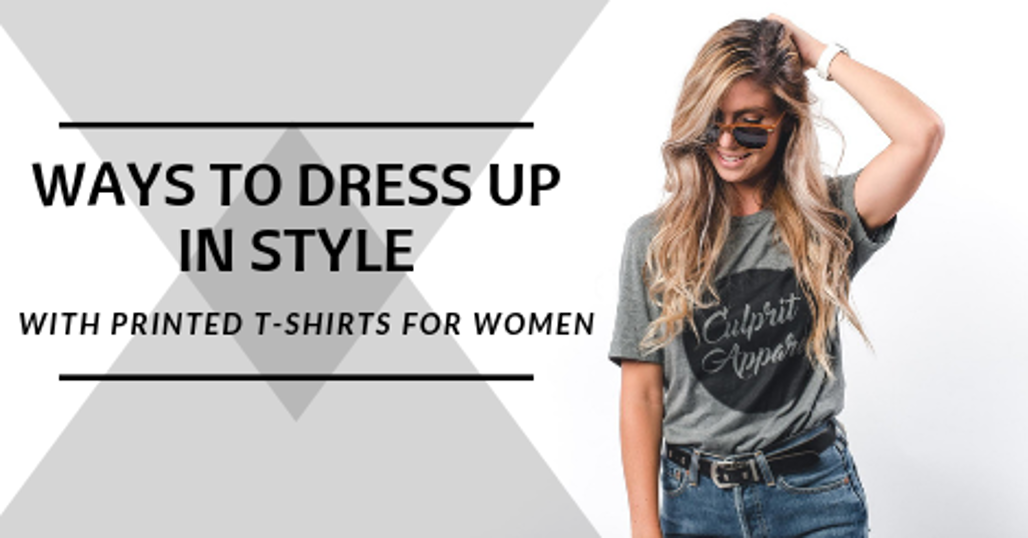 Buying women's graphic T shirts online is child's play, but wearing a tee shirt well can be difficult. Hanging it loose or tucking it in could mean a world of difference. A skirt attire is very different from a trouser look. The vast range of graphic tees for women like to wear can also make dressing up the right way a complicated matter.
There are several ways to carry off the tee shirt look and charm the world. T shirts will suit slim or heavy body types if you've chosen the right size and shade. Leading Indian brands often feature the same print on different cuts to provide you with more options.
There are many clever ways to dress up in a printed tee shirt. So, let's look at a few ways to carry off a unique look wearing different kinds of women's printed T shirts –
#1 – The Skirt, the Boot, the Stole
You can pair various kinds of skirts with your boots depending on the style of your footwear. Long calf-length boot with moderate heels goes perfect with skirts that finish above the knees. You will also find a wide range of women's graphic tees can match up with such a style. However, the finishing touch to this look should be an elegant stole. It augments your shirt and adds a visual variety to the upper body attire. This is why it's always smart to look for a matching stole when looking up women's graphic T shirts online.
#2 – Tucked In and Intense
When women wear their T shits tucked in, there's an aura of fiery intensity about it. Tucking it in a skirt is usually a subtler stance, while tucking it in with denims is more aggressive. Wearing your tee shirt tucked into formal pants in office reflects a serious mood. Hence, the tucked in look is a versatile way to dress up in a tee shirt. You'll find that most women's printed T shirts feature the image or slogan on the upper part of the apparel. This is to ensure that the printed part does not get tucked in when the lady wants to wear this intense look.
#3 – For an After-Hours Stroll
Although most of the graphic tees for women bought from top brands are gender-neutral, some prints are just for the girls. Dressing up for an after-hours stroll is the perfect opportunity to wear these classy feminist messages with pride. This style can feature your tee shirt as tucked in, knotted, or hanging loose. But a suitable skirt and flat heels would be more appropriate than trousers for this look. Also, try avoiding women's printed T shirts with large graphic distractions, and go with an expressive slogan instead.
#4 – Heels & Knots
Knotting the front hemline is not always as easy as it may seem. The rabbit-eared knot may even require carefully slitting the front hemline a few inches. But high heels and knotted shirts make for a most glamorous attire. Women's graphic T shirts are often designed with this knotting style in mind. You'll find the slogan or image printed high on your chest, and a slightly wider hemline to knot with. Some of the graphic tees women buy may even have a slit to tie the double-eared knot. Another option is using a bun-knot, which doesn't require the slit.
#5 – Your Jacket Says a Lot
Wearing women's printed T shirts with a jacket is a universal look, and there are literally unlimited variations you can come up with. Depending on your jacket, you can choose a short tank-top or a full-length tee shirt and carry it well. A suit jacket goes best with a V neck or round neck, while a leather jacket and crop top match perfectly. The top brands for women's graphic T shirts online try to have their most popular slogans and images available in several styles. This variety gives you the option to play around the jacket look in different ways.
1 comment