10 Things To Look Forward To In 2020
Posted by Sourodeep Sinha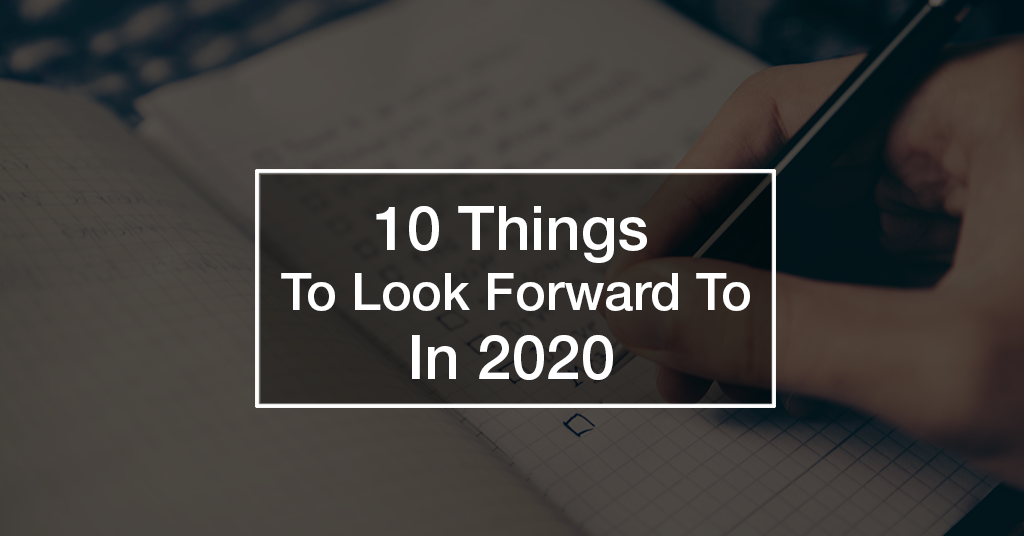 Welcome to the 2020 ! Other than being a mere auspicious nice sounding year, that stands at the gateway of a fresh new decade, the year 2020 will probably be like any other year: Full of confusing and depressing events that will make you wish Earth had some sort of eject button.
But, statistically speaking,
 there has to be some good things too
. In fact, we've counted at least 10 good, interesting or otherwise noteworthy things that will happen in 2020. Mark them in your journal and hold on tight, because this decade is going to be a wild ride. Let's Go :-
1) The 2020 Summer Olympics 
Everyone loves the Olympics! When else can you and your fellow citizens get excited to watch Shooting and weight lifting by our champions ? The 2020 Olympics will feature five new set of games :
 Karate, baseball/softball, skateboarding, sports climbing and surfing, as well as a mess of new events in already established categories. And in a tech-savvy, culturally rich city like Tokyo, the games are bound to be particularly festive.
2) A medley of new movies
We are going to kickstart 2020 with plenty of all new movies and sequels that we all have been craving for in Bollywood as well as Hollywood. Revving up for Fast and the Furious 9 , hailing through the wind to watch wonder woman, we all are set to watch our friendly Aamir Khan, in Lal Singh Chaddha, bhool bhulaiyaa 2 and Radhe. Let's schedule our calendars already for the screen and popcorns at our nearest theaters.  
3) Series like you've never seen it
Since the end of the heinous massacre at the wedding ceremony by Munna, the "Vishuddh" Useless son of Kaleen Bhaiya, in 2018, we have got a fair idea of what is going to happen this 2020, when Guddu Bhaiya will be all set for his revenge, in Mirzapur Season 2. Oh, apart from that, how can we forget, if Mumbai was saved by Sartaj Singh or not,what happens in Sacred Games will be deciphered this 2020. 
4) A total eclipse
Remember how fun the Great American Eclipse was in 2017? Well, there's a Great South American Eclipse coming next year, and eclipse watchers are making plans to congregate in Argentina and stare up at the cosmic spectacle (while safely bespectacled, of course). The solar eclipse will shade the region in brief darkness on December 14, but there are other fun space things happening right around the same time. The Geminid meteor shower will spangle the sky the night before, and a special alignment of Jupiter and Saturn a week later will complete a rare space nerd trifecta.
5) Saturated Goal(s) to be felt 
This is the year the fútbol cosmos finally aligns. The UEFA European Football Championship will go down all around Europe this summer, culminating in a final game at Wembley Stadium in London in July. In South America, the Copa América will take over the continent at the same time. These two major international championships don't usually fall in the same year (though they did in 2016), but going forward, they'll happen simultaneously every four years. So, consider 2019's UEFA championship to be a little extra bonus.
6) The next generation of video game consoles (and new games to play on them)
As you are already aware of the fact, we are now one step ahead of Gigabyte gaming online, where, world of cloud gaming shall be reinvented by Google's Stadia, and you get to play with just a high speed internet connect. Also, we are in a position to buy PS4, as there will be a drastic price drop due to the launch of PS5 yesterday. Some of the best series games, that we are ready to get a setback, is Resident evil 3, (remake of Nemesis). Video games will continue to take over the cultural mainstream, and they'll get a huge boost when two new consoles, the PlayStation 5 and the XBox Series X, hit the market in 2020. New video game releases will accompany these next-gen consoles: Halo Infinite and Hellblade 2 for the XBox, and new Call of Duty and Final Fantasy titles for the PS5.
7) Electric cars and Commute Modes
As we already know, China is ready all set to build a market in India with their significant electric cars that goes upto 350 km in a single charge. Yes, you heard it right, Electric cars, as low as Rs. 6 lakhs starting price, will be considered the world's cheapest electric vehicle will be manufactured in India in 2020. The world of brawny haul-ems with whisper-quiet, earth-friendly engines is about to explode. It's high time, that we start paying heed to our nature's last greenness, and act as fast as possible.
8) Zodiacs will be good to go
We don't have faith on zodiacs, never had basically ;), yet it seems the tarrots are speaking good every day, for all the planets this year. For those, having issues, singles, jobs, etc, we know what is the current scenario,yet it is always feasible to have faith on the goodness likely to happen. On an extra note, let's just keep an eye how zodiacs fathom us this year. 
9) The rise of high-speed rail
It is no secret that high-speed rail is the future of land travel, but the concept has been slow to catch on in the US. That may change in 2020. Several high-speed rail systems are due to break ground, and other plans could move forward in big ways. Also, there is a fair chance of metro project completion and expansion of railways in certain metropolitan cities of India. Let's hope that the services, and the behavior of passengers changes with the up-gradation of railways.
10) A bevy of new books
Great BuzzFeed for all the Bookworms or Kindle Worms out there ! Set yourself this 2020, to relish that bookish relic, as you get options to pre-order some of the most anticipated books. A Ballad of Songbirds and Snakes" is sure to be a buzzy release. It's a prequel to the "Hunger Games" series by Suzanne Collins. Other new releases from well-loved authors. Also, there will be a storm of new Indian author books, that can be seen while subscribed to your Ebook engagement notifications. 
That is all for the day. I hope that I was able to bring a line of smile and positivism to my readers through this blog. Turning around, see you in our next article. Meanwhile, have a look onto our couple set of t-shirts, wear them and fulfill your bucket lists. 

Shop : https://www.beawara.com/collections/couple-tees