Quick Recipes For Those Staying In Hostel
Posted by Sourodeep Sinha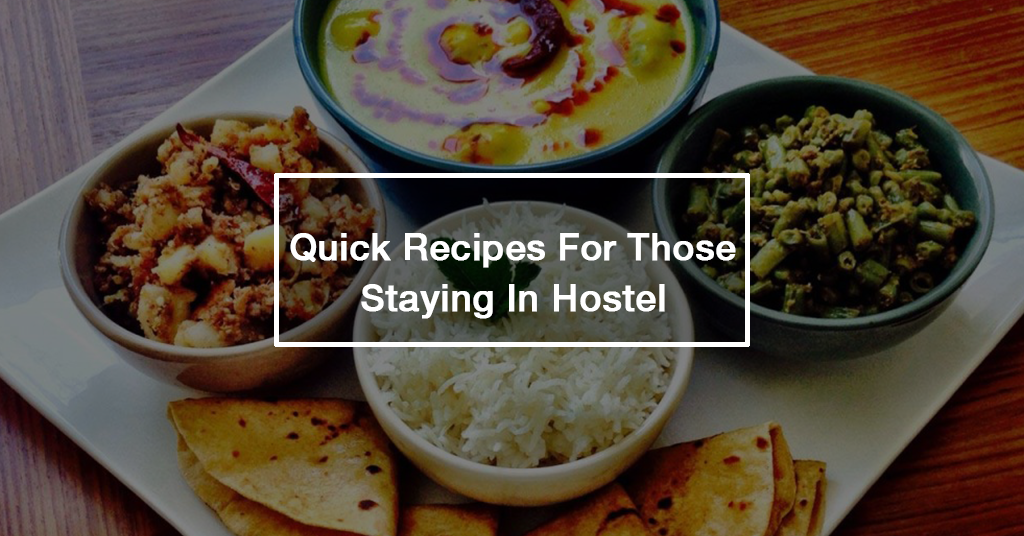 Be it Graduation or Post Graduation, our country has got plenty of colleges to fetch quality education, and for those coming from other states, staying at hostel/mess has always been the safest mode of stay during college days. 
However, it becomes difficult at times, because of the quality and the quanity of food provided in hostel and pg, literally destroying our hunger in minutes. So, in such cases what to do? Either Keep 2 packets of maggi or have something outside, which is not recommended deliberately. 

Let's get deep into some quick recipes and food items(not junk ;) beyond noodles, that is going to help you out in case of Hostel emergencies. 
1) Plain/Egg Hakka Noodles
Before I start sharing ideas,I suggest it is always preferable to carry an induction cooker handy(a big mouthed boiler will also do ). We all love to consume hakka noodles, and considering some utensils, it's always pleasant to have light oiled veg/egg noodles made at home. All you need is a bit of raw noodles, in a bowl, soak them in water for about 30 mins, (once you get to know, your provided dinner is going to be yuck ;) , a little of vinegar,keep a small container of flour oil,or you can arrange from someone, onion, beans, or maggi masala handy. Just cook them in gentle flame for 10 mins add some eggs if you want, and hurrah, your bucket of noodles is ready. 
2) Home Made Burger
Because of the rapid growth of retail market, and ready availability of Raw materials, what you get to eat in Major outlets, is no more a big deal. The basic raw materials to gobble this are : plain burger breads, ketchup pouch ( or pichkoo Rs.15) , aloo tikki /non veg patty for immediate consumption) , no need to purchase a griller machine, as it will be beyond the requirement. 
Tip : In order to prevent flour centric acidity, always prefer brown bread ( burger case is different) 

So now, when all your raw materials are ready, and you have your boiler/ induction on, simply put the patty on a pan with minimal flame, (don't use oil, its already oily ) heat it for 2 mins and take it off. Garnish the burger inside, with tomatoes/onions/cucumbers, and superb, your home made mc chicken burger is ready to eat. 
3 ) Masala Puffed Rice / Jhalmuri 
I know, what I'm going to describe right now, cannot be considered a full fledged dinner, but again, puffed rice, is one of the lightest form of solid food, that gives you relief, even when you are unwell, or having a stomach upset. This, particular can be used in multiple ways, either you make it a bhelpuri/ spicy , with some extra natural ingredients. You can also, carry Nuts/Chanachur with yourself, and add it as per your needs. A little red sauce, would definitely steal the show. 
4) Khichdi/Pongal
All time favourite, Khichdi, is quite popular in most of the Indian states with different names.This can be made easily with rice flour. Mix rice flour with water and add salt & roasted jeera. When you are having Khichdi, usually, it might sound like a lot of garnished items to be required. But it is not.! You just need, rice, turmeric, curry leaf, 2 cups of water, and a kadhai (induction bowl ). Keep heating the ingredients, stir them well, for around 20 mins, until its moderately thick, add a bit of spices, (dry boondi) and your hot khichdi is ready to be consumed.
5) Ready To Eat Meals 
Ready To Eat Meals have been evolving since centuries, and it has been always considered one of the safest way of consuming in case of a natural calamity, or in case of spicy sultry non digestive hostel dinners. The advantageous part of Ready to eat meals, are they can be kept in normal room temperature, even without keeping them in deep freezer. You can always, grab tortillas (or chapatis ) from any local hygienic shop and grab fresh Paneer, Kofta, in packet. I won't recommend consuming non veg in packed foods, as they have a very less shelf life. Also, don't forget to heat it, they say its easy to consume directly, but it's always recommended to pour the item on a bowl, heat it and serve yourself hot. 
6) Poha
Poha (sweet poha) is a quick healthy breakfast made of beaten rice (Chuda) . It is popular in many regions of India, including Gujarat, Maharashtra. It can be eaten in breakfast as well as a quick dinner and is considered quite healthy. Requirements, include raw rice, a bit of turmeric, mustard seeds,potatoes ( if you can manage from college canteen ) and your cooker obviously. 
Put poha in a colander and wash, not letting it soak too long in the water. Leave in the colander to drain out completely.Heat the oil and add the asafoetida, mustard seeds, curry leaves(if available) and mainly onions along with whole red chillies. When onions are light brown, add potatoes, and turn around till they look a bit glossy. Add the turmeric and sauté over low heat till the potatoes are cooked through.Increase the heat, add salt and poha and mix well. Saute till mixed and heated through. Shut off the heat, and add some overall garnish items, and hurray your Poha is ready to be served.
Here are some of the best quick recipes shared. Meanwhile, you can have a look on our upcoming food category t-shirts to suffice your hunger.