Top 5 Attractions To Visit in Singapore
Posted by Sourodeep Sinha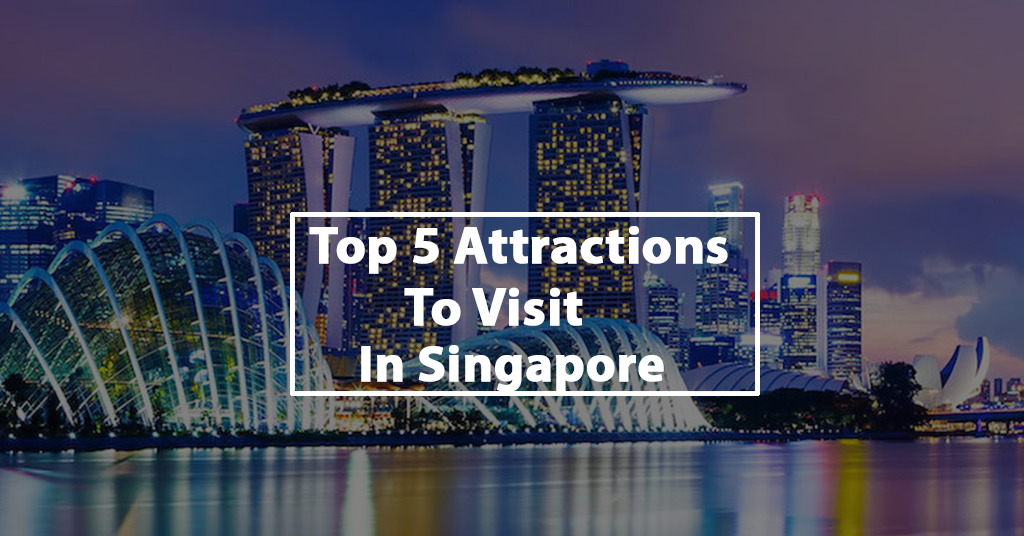 Singapore has been described as a playground for the rich, and it's true that the small city-state is a handful of wealth. But more than just high-end shopping malls, luxury hotels, and fine dining, Singapore has lot of bucketlist destinations too. There is a vibrant history and diverse ethnic quarters to discover, along with many family-friendly attractions and lovely public spaces that make visiting this slightly futuristic city worthwhile.
Let's indulge onto some top places to make Singapore trip worth visit ;)
1) Marina Bay Sands
The opulent Marina Bay Sands resort complex includes a mall with a canal running through it, the Art Science Museum, and the Marina Bay Sands Skypark - a vantage point for taking in the entire city. The Skypark's viewing deck and infinity pool are found in the ship (yes, ship) that tops the hotel. Only hotel guests are allowed to use the infinity pool, but anyone can visit the observation deck. From Skypark, you can see the innovative double helix bridge, the port, the Gardens by the Bay, and the impressive skyline. While up there on top of the city, guests can grab a snack or a coffee at the rooftop restaurant or pick up some keepsakes from the souvenir stand. Better to ask a fellow tourist to snap a photo of you.
2) Singapore Flyer
There has been plenty of movies shot keeping this epic flyer as a prominent background. This is also called the world's largest observation wheel. Choose from several different packages that allow you to be served and pampered while enjoying a view that encompasses not only the Singapore skyline, but reaches to the Spice Islands of Indonesia and Malaysia's Straits of Johor. There are several different ticket packages to choose from, and each includes access to the multimedia Journey of Dreams exhibit, which delves into Singapore's history and the creation of the Singapore Flyer. 
3) Sentosa Island
Singapore isn't exactly known as a beach destination, but if you're really craving some fun in the sun, Sentosa Island is the place to find it. Siloso Beach is a good spot for getting in beach time, and visitors can play volleyball on free courts or go kayaking and skim boarding. There are several other beach attractions as well, plus an Underwater aquarium,where you can swim with dolphins. A must-see on Sentosa Island is the Merlion, Singapore's famous statue that has the head of a lion and the body of a fish. You can take an escalator to the top of the statue and enjoy panoramic views of the surrounding area.
4) Universal Studios Singapore
You wont regret missing the rest, but you will if you miss this. Universal Studios Singapore occupies 49 acres of Resorts World Sentosa. The park is arranged thematically, with each area paying tribute to a location, film, or television show. Destinations include New York City, Hollywood, Madagascar, and a trip back to Ancient Egypt. Fiction-themed areas include Shrek's Far Far Away, the Lost World, and Sci-Fi City where a pair of Battlestar Galactica-themed roller coasters dominate. In addition to the many rides that range from kiddie-friendly to daredevil, the park has diverse dining options, shopping, and live shows throughout the day and night.
5) Botanic Gardens 
Not to be confused, the Botanic Gardens are also worth a visit. Singapore received its first UNESCO World Heritage nomination for the botanic gardens, and with good reason. The city can sometimes feel like a concrete jungle, albeit a clean and comfortable one, but the botanic gardens preserve pieces of Singapore's wilder heritage. Indeed, a walking trail leads to the gardens' heritage trees, which are conserved as part of an effort to protect the city's mature tree species. Make sure to see the impressive National Orchid Garden. Other popular things to do include visiting the eco-garden, eco-lake, bonsai garden, sculptures, and several other gardens and unique sites.
In addition to these places there are still a lot more which are not included here. Keeping it short for now! Meanwhile you can check out some of our latest collection of travel tees that are being added daily on demand.
https://www.beawara.com/collections/graphic-t-shirts-for-men/travel