Top 5 Amazingly Cheap Places To Visit in 2019
Posted by Sourodeep Sinha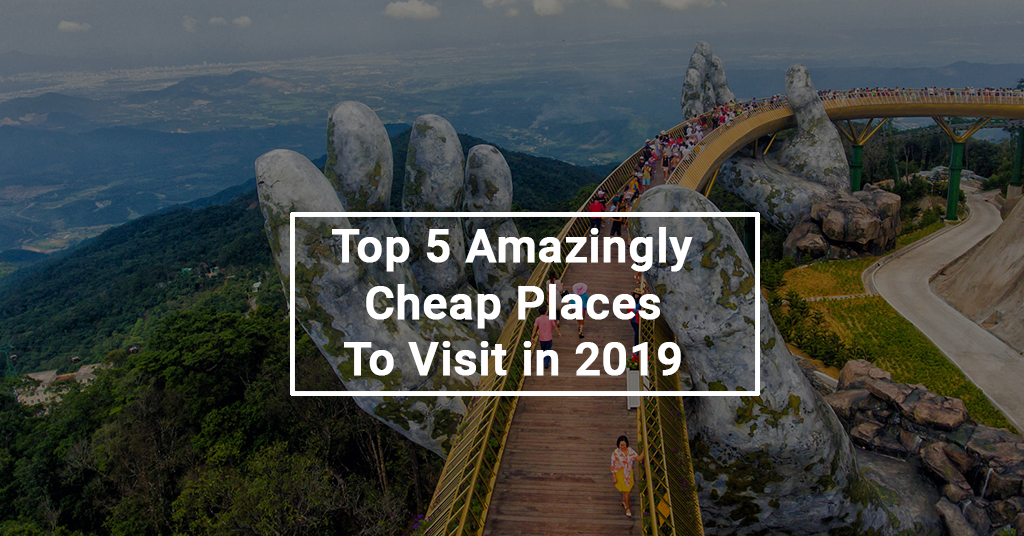 It has always been a menace to set your travel destinations when things are beyond your budget. In order to overcome such trouble, I will be helping you with some of the must visit places near to India, and yes, its damn pocket friendly!
All you have to do is reserve and book your flight tickets ;)
So let's start with some of the amazingly cheap destinations to visit this year.
1) Nepal
As it turns out, the top of the world has more than just mountains to see. Nepal is also home to lush tea fields, glacial lakes, bustling towns, and exotic wildlife. Once you've had your fill of high-latitude trekking, take a safari to see wild rhinos, elephants, tigers, and more in Chitwan. Nepal is one of the cheapest destinations on this list and while remote to get to, those who make the venture here certainly won't regret it.
Some of the top attractions include strolling the chaos of Kathmandu, mountain hiking (and Everest, of course!), general trekking, safari viewing in Chitwan, a visit to the lakeside town of Pokhara. Nepal has just one international airport, the Tribhuvan International Airport close to Kathmandu.
2) Thailand
Thailand is the most traveled tourist destination for budget-friendly people and is the 20th most populous country in the world. It offers you interaction with friendly,jovial and down to earth people. It's a country filled with diverse activities to experience. Starting from clubbing, diving into turquoise watered beaches, devouring on cheap street food, the chaotic markets where you can find anything that interests you, the night skyline, the authentic spas to relax your senses and last but not the least the polite and easy-going people of Thailand. Some of the few places that one must visit include Bangkok for its city parties, Pattaya for its nightlife, Chiang Rai for mountain trekking, Koh Samui and Krabi for the beautiful pristine beaches. It's an all in one tourist destination and also could be your next destination in your list of cheap countries to visit from India. Flight tickets range from 15-20k per person for round trip.
3) Vietnam
Vietnam is a country that reveals itself only to the determined seeker. Located in Southeast Asia, you will stumble upon numerous things in a budget-friendly way. It nestles largest cave of Asia, Halong Bay, islands, forests, religious places, The Marble mountains and green paddy farms cobbled together to convince you to visit this place at least once for people who are planning to go light on their pockets. Vietnam is mostly known for the landscapes that are like magnets to the tourists and the locals as well. Known as the paradise of street food which includes traditional rice noodle soup, rice crepes you can't miss the floating markets where you get everything at a bargain and kayaking which is a haven for backpackers and a very common mode of transport in Vietnam. Sapa and Hanoi are two of the most visited places in this country. Add this one to your list or else you're going to regret it because it's another ideal location to visit for budget travellers.
4) Malaysia
Sharing borders with Thailand, Indonesia and Brunei, Malaysia is in the equatorial region of the globe. The tropical rainforest climate covers this land throughout the year. If you are someone looking mountain ranges, forested hills and coastal plains, Malaysia is your destination. The Mega diverse country is estimated to contain 20% of the world's number of species. Malaysia is home to the largest flower in the world. Are you a foodie? Then this is something you must never miss. With the exotic dishes that has a blend of Indian, Thai and Malay cuisines; Malaysian food reflects its multi-ethnic culture. One of the gazetted festivities of Malaysia is Thaipusam with colourful, exhilarating and joyous celebrations. Malaysia is one of the cheap holiday destinations you can 'afford' to take.
5) Egypt 
Arab countries give you one of the best travelling experiences enveloped with numerous ancient places and historical backgrounds that widen your knowledge while making your trip memorable. Egypt is one of those countries that should be on your international travel wishlist for a recreational holiday. Bordered by the Red Sea to the east and south, it adds an element of adventure for all the scuba divers. Being the world's oldest civilisations, it has some great pyramids and a myriad of historical monuments. The local markets are among the remarkable attractions in Egypt for all shoppers out there. The great pyramid of Giza which is one of the seven wonders of the world is worth visiting in Egypt. This desert land will serve you with an unforgettable tranquil Egyptian time.  The temperature might not be mesmerizing ,but yes if you are an Indian, then you are already facing the humidity and the summer bog, so there wont be anything new! 
That's all for the day, these were only a few, still there are many other places yet to cover. Meanwhile, before you start packing for yourself, I would like to recommend some of our exclusive travel specific tees that will surely make you carry a bigger capacity bag ;) 
https://www.beawara.com/collections/graphic-t-shirts-for-men/travel?view=grid